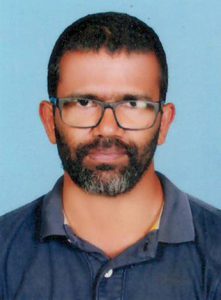 A K VIJAYARAJAN
Director
KSCSTE-KERALA SCHOOL OF MATHEMATICS
My broad areas of research are Functional Analysis and Operator Algebras. I have worked on topics related to the index theory of von Neumann algebras earlier. I am currently interested in Non-commutative functional analysis in general and Operator systems, Operator spaces and Non-commutative convexity in the context of C*-algebras, in particular.
---
Education
BSc(Mathematics): University of Calicut
MSc(Mathematics): University of Calicut
Ph.D(Mathematics): Indian Statistical Institute, Bangalore
---
Current Position

Professor and Director
Kerala School of Mathematics, Kozhikode, Kerala, India.
---
Post - doctoral experience
Fields Institute for research in mathematical sciences, Canada

University of Ottawa, Canada

Dalhousie university, Canada

University of Nottingham, UK

Indian Institute of Science, Bangalore
Past Scholars
---
Current Schloars
---
Past Fellows
---
Current Fellows
---
Journal Publications
---
Extreme states and boundary representations of operator spaces in ternary rings of operators, J. Alg. Appl., (accepted: 19 Dec. 2022) co-authors: A. M. Shabna, C. S. Arunkumar, M.S. Syamkrishnan
https://doi.org/10.1142/S0219498824501007
Bi-extremity of embeddings of operator spaces into their injective envelopes; Advances in Operator Theory volume 7, Article number: 52 (2022) ; co-author: M. S. Syamkrishnan;
https://doi.org/10.1007/s43036-022-00214-0
On weak boundary representations and quasi hyperrigidity for operator systems; J. Anal., Vol 30, pp 1219-127(2022); co-author: C S Arunkumar
https://doi.org/10.1007/s41478-022-00405-1
Extreme states on operator spaces in ternary rings of operators.Proc. Indian Acad. Sci. (Math. Sci.) (2021) 131:44; co-authors: C S Arunkumar,, A M Shabna, M S Syamkrishnan
https://doi.org/10.1007/s12044-021-00639-2
Boundary representations and rectangular hyperrigidity. Banach J. Math. Anal. 15, 38 (2021) ; co-authors: C. S. Arunkumar; P. Shankar
https://doi.org/10.1007/s43037-021-00122-0
Hilbert modules characterization for weak hyperrigid operator systems. J Anal 28, 905–912 (2020); co-author: Shankar P
https://doi.org/10.1007/s41478-020-00220-6
Quasi hyperrigidity and weak peak points for non-commutative operator systems; Proc. Math. Sci. 128, 66 (2018). co-authors: M. N. N. Namboodiri, S. Pramod, P. Shankar;
https://doi.org/10.1007/s12044-018-0430-3
Tensor products of hyperrigid operator systems." Ann. Funct. Anal. 9 (3) 369 - 375, August 2018; co-author: P. Shankar;
https://doi.org/10.1215/20088752-2017-0043
Hyperrigid operator systems and Hilbert modules." Ann. Funct. Anal. 8 (1) 133 - 141, February 2017; co-author: P. Shankar
https://doi.org/10.1215/20088752-3773182
Separating and quasi hyperrigid operator systems in C*-algebras; Tbilisi Mathematical Journal 10(4) (2017), pp. 55-61; DOI 10.1515/tmj-2017-0045; co-authors: P.Shanakr, S. Pramod;
https://doi.org/10.1515/tmj-2017-0045
https://link.springer.com/chapter/10.1007/978-3-319-18182-0_7
Finite dimensional Cebysev subspaces of C*-algebras; J. Ramanujan Math. Soc. 29, No.1 (2014) 63–74; co-authors: M. N. N. Namboodiri, S. Pramod;
https://drive.google.com/file/d/0B_RIasLa4TYoUFlJR01KNmF6V2M/view?usp=sharing
Teaching Experience
---
Recent Talks and Seminars
---
---
Director
KSCSTE-Kerala School of Mathematics
P.O. Kunnamangalam
Kozhikode, Kerala, India
PIN: 673571
Phone Number :
PA to Director : +91 495 2809007
Director: +91 495 2809001
Email: director@ksom.res.in